OMR Response Sheet Order Form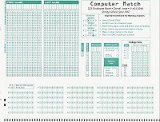 To order Optical Mark Response sheets for you school, simply fill out the form below. The sheets will be promptly mailed to you. These sheets are very similar to those used for standardized tests. A #2 graphite (lead) pencil is required. Please order in multiples of 25.

Complete instructions will be sent along with the response sheets.