Sample Compatibility Card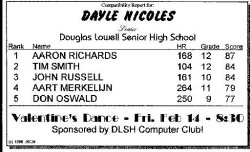 You may have up to 10 people on each list. Smaller schools may wish to use a smaller number of names, such as 5. Homerooms are optional. There is room at the bottom of the card for a special message. Use this space to advertise an upcoming event or to promote school spirit. The card stock comes in a number or colors. You may wish to use a different color for each grade. If you opt for multiple lists, you may want different colors for the different lists.

Remember you only pay
$.55
for the lists you SELL!

4 Programs to Choose From:
All Grades Together

With program 'A', students are matched with the students of the opposite sex from any grade in the whole school. For example, a senior could be matched with freshmen, sophomores, juniors, or seniors. This program is popular in smaller schools and middle schools.

Each Grade Separate

Program 'B' matches students with students of the opposite sex from his/her own grade only. Seniors will be matched with seniors, juniors with juniors, sophomores with sophomores, and freshmen with freshmen. This program is popular in larger schools.


Student's Choice

Program 'C' allows participants individually to choose whether they wish to be matched with others from his/her own grade or from the whole school. This is our most popular program.

Double List Option

With Program 'D' students will each receive TWO lists. One list will be matches with their grade only. The other will be with the grades other than their own. This will double the number of lists you can sell!